Collaborate on Creative Solutions
For clients who wish to go above and beyond print and digital display opportunities, our creative solutions teams is ready to solve even the most challenging integrated client briefs through branded content, native advertising, bespoke experiences and more.
Samsung: 'Share Your Now'
The Brief
For the launch of the Galaxy Camera Samsung wanted to showcase the camera's unique features, especially the sharing functionality. This would be the first camera which enabled users to share their photos instantly on social media. So the brief was to deliver a campaign which energized the audience to share their most creative work.
Why Time Out?
We know our audience really well. We know that they're a pretty creative bunch at the best of times. And we also know that they're incredibly passionate about the city in which they live. Time Out is unique in that it has a strong, emotive relationship with its audience. A sort of Time Out 'community' exists, which actively engages, creates, and shares content allowing for a genuine two-way relationship, rarely seen with other media channels.
What we did
With connectivity and sharing at the core of the campaign, an engagement-focused creative campaign was essential. A photo competition seemed the natural solution, but this needed to be done as creatively as possible. Tapping into the passion of the audience was vital, so we added another element to the campaign which would challenge readers in both London and New York. Proving your city is the best through the medium of photography became the creative hook as Time Out London would take on Time Out New York.
A bespoke microsite facilitated the user journey and allowed Time Out to fulfill the demands of running across two territories, communicate the functionality, and efficiently manage the logistics of the photo competition, and also allowed users to pull images from a number of sources (Facebook, Instagram etc.), imitating the cameras sources. Social functionality was integrated at every stage including posting, sharing and liking to users social media accounts which fed straight into a leader board of photos.
The Results
Time Out not only exceeded Samsung's engagement expectations but also surpassed all previous benchmarks. An incredible 15,304 photos were uploaded during the campaign with London achieving almost two thirds. This was 3 times the KPI Samsung required. Time Out garnered 68,439 visitors to the microsite, which was 2 and a half times the expected number.
Social media results are a strong indicator of engagement; 32.4% of all traffic came directly from this channel. The campaign achieved almost 11,000 direct interactions with the content via social media, far exceeding any commercial campaign of a similar scale.
Campaign Overview
Print Overview
Cover Wrap
X6 full page display, tactically positioned opposite Editorial Franchise, Escape from New YorkIntegrated Sponsorship Box on Escape from New York.
Over the campaign we gave the client visibility to which cities were being featured – Booking.com provided three hotels at different price points for readers to be inspired.
Quart Page Strip Competition advertorials – giving readers the ability to win a spontaneous trip (worth over $4,000 each)
Digital Overview
Custom Hub Features Package
Homepage + Things to Do Roadblocks
13.5MN impressions served over the campaign
Email Newsletters
TONA traffic drivers
Native Ad Units
Social Support
Twitter / Instagram pushes from Time Out New York, Time Out Chicago and Time Out Los Angeles
The Results
Time Out users exposed to Booking.com creative were more likely use Booking.com the plan their next trip than other leading competitors. 'Intent to use' Booking.com to plan their next trip increased by 57% among users exposed to Booking.com creative – more than any other online travel agent. Also, the likelihood to use Booking.com to plan their next trip increases drastically as visitors are more frequently exposed to creative.
Jagermeister: 'The Ultimate Fall Roadtrip'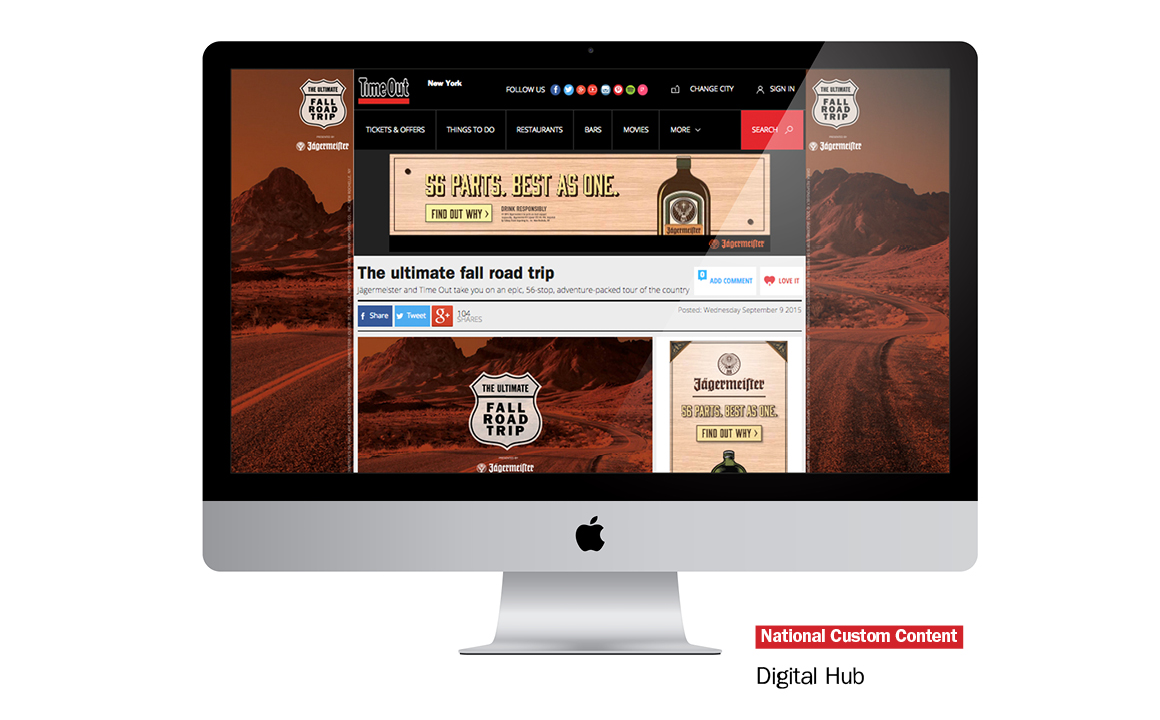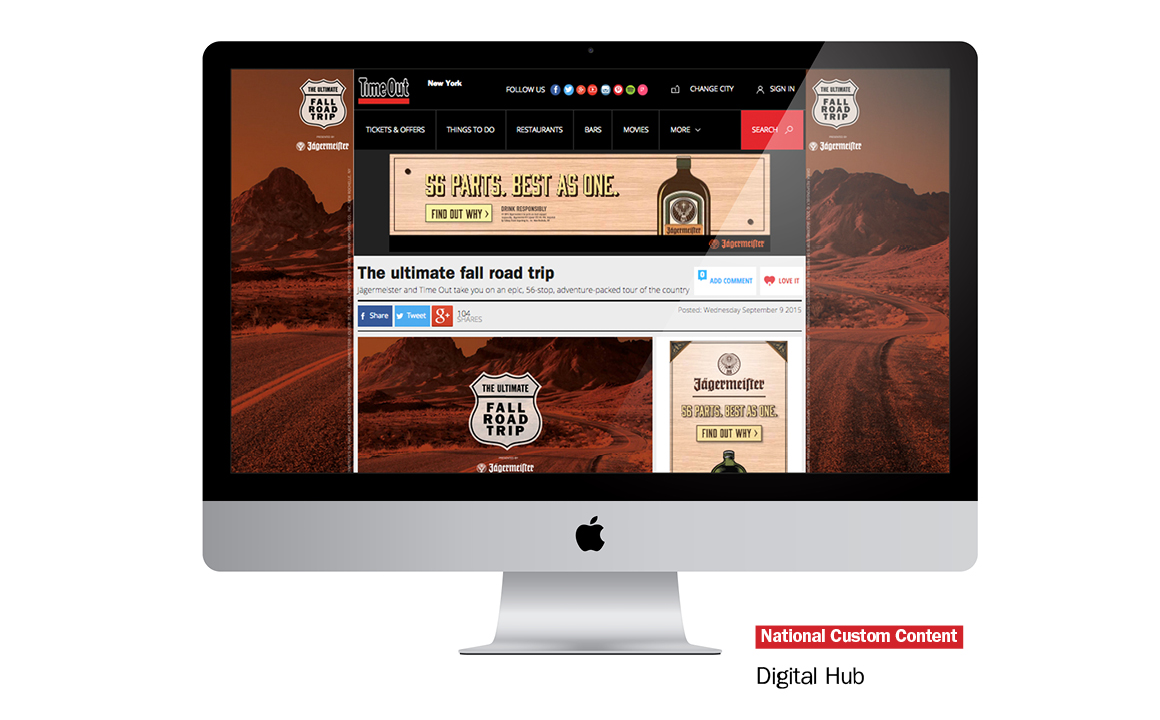 The Brief
Jägermeister turned to Time Out to collaborate on a custom content and experiential campaign with goals of bringing brand awareness to millennial consumers and driving trial of Jägermeister cocktails.
Time Out curated a custom program inspired by the Jägermeister's 56 ingredients, and created an Ultimate Fall Road Trip with 56 US destinations you must travel to.

What we did
The 3 month program consisted of multiple elements including:
National Custom Content Package consisting of a Digital hub, blogger feature, recipe feature and more.
12-Page Print Mini-Guide Book Inserts (NY & Chicago)
Full page branded print ads & advertorials (NY & Chicago)
Branding ad takeovers and targeted display banners across all US websites
Mobile app content integration
Two custom bespoke live events (NY & LA)
Blogger road trip experiential integration
Email Marketing (Dedicated Emails, Newsletter Listings and Sponsorships)

The Results
Time Out exceeded Jägermeister's impression expectations with +22MM impressions delivered through this multi-platform national custom content and experiential campaign.
The national custom content digital hub garnered 96,776 unique visitors through a robust set of custom traffic drivers, while the print executions yielded over 3.5MM impressions through custom ads and advertorials.
Also, through (2) highly engaging custom events where consumers were transported to destinations on the Ultimate Fall Road trip through custom cocktails, food pairings and live talent, Time Out delivered +300k impressions and kick started word of mouth. Then, by sending a social influencer on a journey to explore and share his Ultimate Fall Road trip journey via social media, Time out brought an additional +8MM impressions to the brand via +80k total consumer engagements via social media.
Paypal & Airbnb: 'Meet Halfway'
The brief
Airbnb and PayPal turned to Time Out to create a custom content package and digital media campaign with goals of driving organic brand awareness for the "Meet Halfway" experience amongst the Time Out Audience.
What we did
Time Out curated a custom content solution inspired by the "Meet Halfway" co-brand initiative, which aims to promote the notion of how easy and fun it is to erase the distance between friends/family/loved ones and come together to share in a new travel experience.
The 1 ½ month program consisted of a campaign that delivered over 6MM impressions:
Custom digital content package where two very different friends, Time Out New York nightlife editor Chris Tarantino and Time Out LA editor
Kate Wertheimer, share the ultimate weekend in Denver. The experiential integration can be viewed here.
High impact digital display campaign across select Time Out cities
Mobile app content integration
Native contextual advertising campaign across select Time Out cities driving traffic to the custom digital content package, delivering over 2M impressions at a 2.46% avg. CTR.
Email Communications (Dedicated Emails, Newsletter Listings and Sponsorships)
Get in touch
To find out more about advertising on our website, mobile site and within our emails please contact us.